Site Stats
Total Members
8357
Users Online
0
Guests Online
1
User Game Hits
18,048
Viruses Killed
1,124,862
Purchase Items
Indie VE Pack

$9.99
Log In
To Purchase
Spike Ball Gun

$2.99
94/100 Left
Log In
To Purchase
Rocket Launcher

$2.99
94/100 Left
Log In
To Purchase
Musket

$1.99
94/100 Left
Log In
To Purchase
Grenade Launcher

$0.99
Log In
To Purchase
Displaying News Article 71 - 80
Some Minor Updates
Tuesday - October 14, 2008
A few new sprites in the game, and updated Weapon Upgrade prices. Some enemy fixes have been made too.

There are also a few website updates, you can now reset your stats if you so choose. Just go to your account, and click Edit Account, and in there is a button to reset your stats.

A new enemy is on its way, and some new maps will be coming soon.
-Corvinex-
View Comments(0)

/

Add Comment




New Site and More
Saturday - October 11, 2008
We have changed the game's website location to VirusEffect.com

There is also a new version with a new title screen and episodes, so check it out!
-Corvinex-
View Comments(1)

/

Add Comment




New Backgrounds
Tuesday - October 7, 2008
I just put up some backgrounds in Project X. The city background is by our new Pixel Artist that is doing some work for Project X.
We have also updated the Screenshots.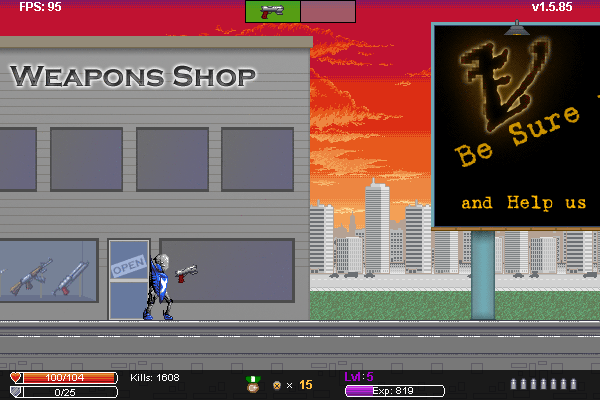 -Corvinex-
View Comments(0)

/

Add Comment




Weapon Upgrades
Sunday - October 5, 2008
I have added the next step in Project X, weapon upgrades. The weapon enhancements will give players the ability to surpass any obstacle with enough upgrades.

Wow, I forgot to mention that you can now store your weapons in your room. Just drop anything you want to keep in there and it will be there when you get back.

There is also a brand new episode 3, and the old one has been changed to episode 4.

Enjoy, and post any thoughts or suggestions in the new forums.
-Corvinex-
View Comments(0)

/

Add Comment




Forums Available
Monday - September 29, 2008
I put together some forums for everyone to talk about Project X.

I also lowered the death penalty to 15% of CredX and Experience.

New maps are being created to have smoother difficulty transitions. Also backgrounds are coming soon.
-Corvinex-
View Comments(3)

/

Add Comment




Saving Is Back
Sunday - September 28, 2008
Hey everyone, I have been hard at work on Project X, and we have a few announcements. First of all the saving is back up, along with quite a few updates.

Faster Download, file size reduced by 25%
Slow down when there is a lot of particle effects is reduced
More secure access to saves
Map to map saving
Underwater, bullets are diminished. (Preparing for bullet types)
When you die, you lose 20% of Experience and CredX
Updated rooms
Started the beginning of the city, connected to rooms
Added bubbles where needed
Clicking to unpause does not shoot anymore
Balanced weapon prices, and the Grenade Launcher

Also, there is a new RSS feed now for easier news updates. Its a little glitchy but it works.

We are in the process of changing the name of the game, Project X was only supposed to be the name of the current project I was working on. Once we have aquired the domain name we will announce the new name.

More maps, and backgrounds are coming soon.

-Corvinex-
View Comments(5)

/

Add Comment




New Maps
Sunday - September 21, 2008
A temporary version is up for Project X, this includes new maps and the weapons shop. You will have to log in to play, and that is not how the final look of the shop will be. I would love to hear what everyone thinks of the temporary game style.

More maps are coming, and good luck with this set. Have fun :)
-Corvinex-
View Comments(1)

/

Add Comment




New Character
Thursday - September 18, 2008
Hey everyone we're still alive. Well I am for one. Hurricane Ike really did a number on my area. I live in Houston, and I didn't have power for a couple of days. Everything is good now.

We have a redone main character to prepare for character customization. That's right, we are in the process of creating customizable character pieces.

Other news is that there is a security issue with the saved games. So it is temporarily down until I can get a work around working. No Servlets with my webhost...

More updates are in the works, keep checking back.
-Corvinex-
View Comments(1)

/

Add Comment




1.49 Out
Friday - September 5, 2008
This update is more under the hood stuff, there is a new saving system, to prepare for player upgrades.
It is now a lot easier to jump out of the water just hold up next to any platform near the surface. And a minor enemy error is fixed. I made the bullets darker to be more visible. And I got rid of an error that was caused by clicking off screen, which made you keep walking.

Test it out.
-Corvinex-
View Comments(0)

/

Add Comment




Initial Error Gone
Sunday - August 31, 2008
WOOOOOO! I have finally found and fixed the initial error that caused the game to freeze when starting the game. It was an error that occurred in at least 50% of the computers running the game. This is a great day for Project X, now everyone can experience the game.

Updates for v1.48 include mines, new game maps, a different viewing scheme, and you can run backwards now! :)
I have also added a Game Info page for Project X.

New features are approaching enjoy!
-Corvinex-
View Comments(7)

/

Add Comment




1
2
3
4
5
6
7
8
9
10
News Archive
Latest Blog Posts
IndieVElopment Pack
Jul. 8, 2010 8:37 pm
Android - Why Every Java Developer Should Be On The Bandwagon!
Mar. 4, 2010 3:14 pm
Android Version In The Works
Dec. 30, 2009 11:58 pm
November Update
Nov. 11, 2009 9:27 pm
New Physics Code, Finally
Jul. 2, 2009 7:47 am
Latest Forum Posts
¿This game already dead?
May. 27, 2017 8:43 pm
Try to win!
Nov. 25, 2016 6:24 am
Special Weapons After Donation
Apr. 24, 2013 10:27 pm
Do this, Corvinex!
Mar. 17, 2012 7:42 pm
Shark Things in Level Two
Mar. 17, 2012 7:39 pm