Site Stats
Total Members
8357
Users Online
0
Guests Online
1
User Game Hits
18,048
Viruses Killed
1,124,862
Purchase Items
Indie VE Pack

$9.99
Log In
To Purchase
Spike Ball Gun

$2.99
94/100 Left
Log In
To Purchase
Rocket Launcher

$2.99
94/100 Left
Log In
To Purchase
Musket

$1.99
94/100 Left
Log In
To Purchase
Grenade Launcher

$0.99
Log In
To Purchase
Displaying News Article 61 - 70
Account Confirmation
Sunday - January 18, 2009
Hello VE players.

I hope everyone had a good holiday. Here at VE we have been working on some new maps and environment features that will bring some added depth to levels.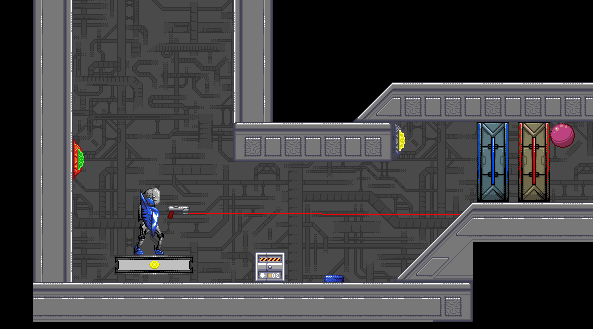 I have also fixed a couple of errors on the site and in game. One of which was getting pushed through the door sometimes didn't lead to the next room.

I have also changed up the account activation to account confirmation. When new users sign up they can confirm they're accounts by e-mail and receive 100 credx. I made it this way since some users were not receiving the e-mail confirmations in a timely manner.

More info coming up soon about turning this into a full fledged game. :)

-Corvinex-
View Comments(2)

/

Add Comment




Game Play Video
Sunday - December 21, 2008
Hey guys, I finally took the time to create a short video of VE's game play. It's not that great but it works for anyone wanting to see the game play before signing up.

-Corvinex-
View Comments(7)

/

Add Comment




Little More Blood
Friday - December 19, 2008
Welcome to VE's new site look. Everyone thank Amorphous for the awesome graphic art she made.

I just put up an update for VE, v1.5.6. It contains some added effects, heh, and bullets now push back enemies. This gives you a little more time to react to the on coming horde of creatures. There is also music now! More tracks will be available soon. Take note that if you want to run the game at its fastest, go to options and turn off music and or sound.

We have paused production to the new multiplayer VE to finish up some more episodes and features to the current VE. We are in the process of creating a Map Pack that will contain new areas, enemies, episodes, and features for anyone that donates five dollars to fund the new VE. I will post more details on this as we move along production.
-Corvinex-
View Comments(3)

/

Add Comment




VE News
Saturday - November 22, 2008
Hey everyone, I just wanted to tell everyone some news about VE and where its going.

I just got back from the Independent Game Conference at Austin (IGC). I met some great people and learned a couple of techniques to apply to VE. I will be recoding the game from the ground up centered around network play. This means there might not be any updates to the current version of VE, but I will still be putting up fixes and maybe maps.

As far as the new VE goes I will be in designing mode for a little while, and making sure every possible feature is implemented. This will mean a lot for the game and the team. All the cool technical features we wanted will be able to be implemented using a different Java API.

We will also be holding a contest later on to find alpha/beta testers of the new multiplayer version, so keep checking back for more details.
-Corvinex-
View Comments(11)

/

Add Comment




New Stat and Sounds
Monday - November 3, 2008
This new update contains a few key changes on the road to new features. We have added a stats choosing menu when you level up. You can choose to spend your stat points on health, armor, speed, and a new energy stat. The energy stat will be used later for Augments.(More on that later)

You can reach the stat menu by pressing T. Also I changed the weapons stat button to G, it keeps everything reachable by one hand.

The new sounds include a level up sound along with an effect for it. A box breaking sound, finally... and a few others.

We are now going to start adding the new enemies and areas to the game next. Enjoy!
-Corvinex-
View Comments(1)

/

Add Comment




Medical Center
Monday - October 27, 2008
I have implemented a medical center in the city. This will help out anyone with low health or armor. ;)

I also added damage sprites to the wooden crates. It adds a little more feedback to see your progression in your quest to break them.

More coming soon, visit the forums today! :D
-Corvinex-
View Comments(0)

/

Add Comment




Kill Count and Medals
Sunday - October 26, 2008
We have added a total kills counter to Virus Effect. This will keep track of the amount of enemies you have killed. Medals will also be awarded to players that reach higher and higher kills.

We have also put up a leaderboard page to keep track of the community's top 10 players. You can also view who is online on the same page.

Enjoy there is more to come!
-Corvinex-
View Comments(4)

/

Add Comment




Boss
Wednesday - October 22, 2008
I just put up the new boss, it is in episode 7, v1.5.55
This will be our last update until the new gameplay style is implemented.

This includes more exploration instead of episodes, area specific enemies, and an actual point to the game.

I hope everyone has enjoyed everything up until now, because its about to get a whole lot better. :D
-Corvinex-
View Comments(6)

/

Add Comment




New Episode
Saturday - October 18, 2008
There is now a new episode out, also some more reworked upgrades and gun prices.

Check it out, and more of everything coming really soon.
-Corvinex-
View Comments(3)

/

Add Comment




Account Activation
Wednesday - October 15, 2008
I have added e-mail confirmation to new registered users, this ensures actual players signing up.

There is a new enemy coming soon, and some more sprites will be added too. Keep checking back.
-Corvinex-
View Comments(0)

/

Add Comment




1
2
3
4
5
6
7
8
9
10
News Archive
Latest Blog Posts
IndieVElopment Pack
Jul. 8, 2010 8:37 pm
Android - Why Every Java Developer Should Be On The Bandwagon!
Mar. 4, 2010 3:14 pm
Android Version In The Works
Dec. 30, 2009 11:58 pm
November Update
Nov. 11, 2009 9:27 pm
New Physics Code, Finally
Jul. 2, 2009 7:47 am
Latest Forum Posts
¿This game already dead?
May. 27, 2017 8:43 pm
Try to win!
Nov. 25, 2016 6:24 am
Special Weapons After Donation
Apr. 24, 2013 10:27 pm
Do this, Corvinex!
Mar. 17, 2012 7:42 pm
Shark Things in Level Two
Mar. 17, 2012 7:39 pm