Site Stats
Total Members
8357
Users Online
0
Guests Online
1
User Game Hits
18,048
Viruses Killed
1,124,862
Purchase Items
Indie VE Pack

$9.99
Log In
To Purchase
Spike Ball Gun

$2.99
94/100 Left
Log In
To Purchase
Rocket Launcher

$2.99
94/100 Left
Log In
To Purchase
Musket

$1.99
94/100 Left
Log In
To Purchase
Grenade Launcher

$0.99
Log In
To Purchase
Displaying News Article 41 - 50
More Shirts and a Tutorial
Wednesday - June 17, 2009
Today I put up some shirts Amorphous created for the game in the general store, check them out to customize your character further.

I have also started working on multiplayer and have created a tutorial for all the Java developers wanting to start working with network code. I posted it up on our company site CorvStudios.com.

Every once in a while we will be needing some testers for the multiplayer version so stay active!
-Corvinex-
View Comments(6)

/

Add Comment




Hair Styles
Thursday - June 11, 2009
Hey guys, I finished up the salon. So now you can customize your hair. Soon we will be putting up tons of different kinds of hair styles then the ones in their now.

More to come, bare with us :)
-Corvinex-
View Comments(1)

/

Add Comment




Inventory and Some Shades
Thursday - June 4, 2009
Woooo, finally. Its been a while.

I just finished all the code involved with Inventory and Equipment, press C to open it up. You can now carry items as well as weapons in your inventory. There is also a new store at the farthest end of the city. Right now it contains some new eye wear to spend Credx on. Soon we will be putting up more equipment to wear in the shop.

I also changed some other minor stuff, and made the code more efficient. I'll be writing a blog post soon describing what we've done and what we're working on.

Thanks for all the support and have fun!


P.S. This is what's to come!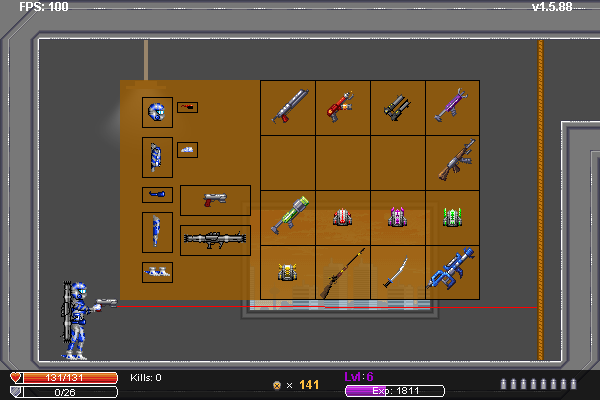 -Corvinex-
View Comments(5)

/

Add Comment




New Character and Weapons
Monday - May 18, 2009
Hey everyone, I would like to officially announce our new base character. It is a male human character, and later on we plan to have a female human character along with robot base characters.

We have also moved the secondary weapon on the player's back for him to carry along the game play.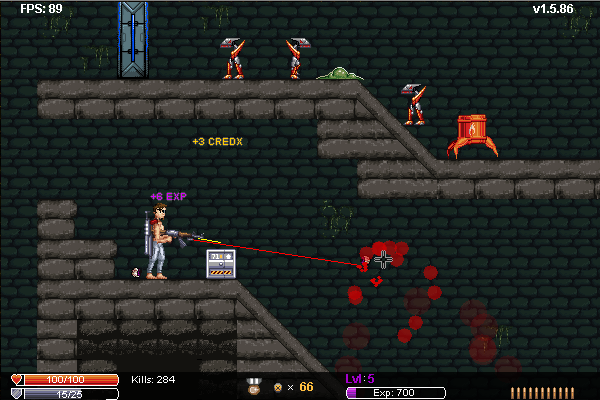 A few new unique weapons located on the Donation page has just been made available. We are limiting the amounts of these items sold, so get your hands on them now before they become rare items.

Next on the list is equipment, stay tuned :D

-Corvinex-
View Comments(1)

/

Add Comment




Happy Anniversary
Friday - May 8, 2009
Yesterday was the anniversary of VE! If you scroll to the bottom, and click on News Archive you will see the first post made about VE.

I tried to finish up what I was working on yesterday, but I couldn't make it. Anyways its out now.

Updates include error fixes and an updated city, so go on and check it out. I'll probably be posting a blog some time about what we're working on behind the scenes.

More will be coming soon. ;)
-Corvinex-
View Comments(2)

/

Add Comment




Live Chat Window
Friday - April 24, 2009
Cool update,

I changed up the game page a little bit, and added a live chat window. So you can chat with other people that are playing the game. :)

More coming soon.
-Corvinex-
View Comments(0)

/

Add Comment




Faster and Weapon Weight
Thursday - April 23, 2009
Another quick update.

This one contains faster walk speed along with weapons having a weight that affect the walk speed. I took out the Speed Stat, soon I will be redoing the player's stats to enhance game play.

I also added to the dialogue box skip to the end when you press "E", instead of skipping the whole dialogue all together.

Check it out, and have some fun with the new speed boost.
-Corvinex-
View Comments(0)

/

Add Comment




Training Redone
Sunday - April 19, 2009
Hello everyone,

I redid the Training Grounds to reflect the new features that we implemented into VE. You guys should check it out at least once to see some of the features we used for Episode 8.

More updates are coming soon as usual, Thank you.
-Corvinex-
View Comments(0)

/

Add Comment




Big Game Update
Thursday - April 9, 2009
Today during class I wrote some code on paper which allowed me finish up and work on a lot of stuff I have been holding off on. So this update includes limiting credx according to level. Limiting the distance objects get pushed back when shot at. Catching stuff on fire if they are on top of each other, as well as damaging the player if in fire.

I also made an attempt at fixing the collision error that caused teleporting past objects.

This fixes a lot of the balancing issues with the game, and should create a more realistic gaming experience.

More stuff coming soon. ;)
-Corvinex-
View Comments(0)

/

Add Comment




Episode 8 Released
Tuesday - April 7, 2009
Yes the day has finally arrived for the new episode. There are so many new environmental features and a few new enemies in this episode.

I hope the wait was worth it. I'll post a blog soon explaining all the details.

Have fun!
-Corvinex-
View Comments(0)

/

Add Comment




1
2
3
4
5
6
7
8
9
10
News Archive
Latest Blog Posts
IndieVElopment Pack
Jul. 8, 2010 8:37 pm
Android - Why Every Java Developer Should Be On The Bandwagon!
Mar. 4, 2010 3:14 pm
Android Version In The Works
Dec. 30, 2009 11:58 pm
November Update
Nov. 11, 2009 9:27 pm
New Physics Code, Finally
Jul. 2, 2009 7:47 am
Latest Forum Posts
¿This game already dead?
May. 27, 2017 8:43 pm
Try to win!
Nov. 25, 2016 6:24 am
Special Weapons After Donation
Apr. 24, 2013 10:27 pm
Do this, Corvinex!
Mar. 17, 2012 7:42 pm
Shark Things in Level Two
Mar. 17, 2012 7:39 pm