Site Stats
Total Members
8761
Users Online
0
Guests Online
2
User Game Hits
18,048
Viruses Killed
1,124,862
Purchase Items
Indie VE Pack

$9.99
Log In
To Purchase
Spike Ball Gun

$2.99
94/100 Left
Log In
To Purchase
Rocket Launcher

$2.99
94/100 Left
Log In
To Purchase
Musket

$1.99
94/100 Left
Log In
To Purchase
Grenade Launcher

$0.99
Log In
To Purchase
Displaying News Article 1 - 10
On Pause
Wednesday - July 20, 2011
I wanted to inform everyone that's a fan of the game and the players that have been waiting patiently for updates that VE is on pause. There is no game over yet for this indie game. Life has shifted a lot lately but VE has not left our minds.

Since work has paused a little less than a year ago many things have evolved for Corv Studios which was originally started to build VE. Unfortunately focus had to turn to where the money is. Fortunately that aspect is slowly stabilizing. So we will be focusing back on our true passion in the coming months.

For those of you that have the IndieVElopment Pack look forward to news about fresh builds to check out in the future.
-Corvinex-
View Comments(44)

/

Add Comment




Halloween Update
Monday - October 18, 2010
For version 1.6.3 we fixed a lot of little things including, removed Secure Instances, removed Energy Stat, removed blank Stat, fixed the Armor Bug, and we fixed the Billboard plus added a new ad to it. We also incorporated the rest of the Vale Suit for enemy drops.

Happy Halloween everybody!
-Corvinex-
View Comments(3)

/

Add Comment




New IndieVElopment Pack!
Monday - August 9, 2010
Hello all, production has been ramping up lately thanks to the two new additions to the development team. Everyone give a warm welcome to Eugene and Kamil. Eugene is the first additional programmer on the team :O. Kamil is an amazing artist that has been itching to work on some nostalgic pixel art. They have already both been turning in excellent contributions to the team.

Since development has been going steady we decided to allow players an all access pass to everything that is in development.



With the donation of $9.99 players will get: all the paid weapons, access to test out everything in development, an unlocked private Dev Forum, capability to help make design decisions, and the latest news before the public. With help from the community we would finally be able to focus more of our time on making VE into a great game.
-Corvinex-
View Comments(0)

/

Add Comment




Unlocked Armor Drops
Tuesday - June 15, 2010
Since the current game is on its way out within a couple of months, I unlocked the possibility of enemies dropping armor. Also the registration should be working again, as well as the game working properly. So click on Play Game and check it out, be sure to keep track of the defense range if you find some of the same pieces.

More news regarding the Facebook version and the Android version will be coming soon.
-Corvinex-
View Comments(2)

/

Add Comment




Log In With Facebook
Saturday - February 27, 2010
Hey everyone, I just finished adding Facebook Connect to the site. It was a lot easier than I thought it was going to be. Anyways, so now you can log in with a Facebook account and either create a new account on Virus Effect or link an existing account from VE.

If you are already logged in and want to link a Facebook account then log out. Then log back in with Facebook. There it will ask you to link the account you already have.

If you go to your apps in Facebook you will be able to see the current state of the Virus Effect application on Facebook. Feel free to try it, but keep in mind its still in the alpha stage.
-Corvinex-
View Comments(2)

/

Add Comment




New Web Server
Tuesday - February 23, 2010
I just got VE's webhosting updated, so now it has PHP5. This was the last requirement I needed to get straightened out to create a Facebook application for VE. So for the next couple of days that is what I will be working on, as well as updating the applet version.

You can check out the latest version of VE here: Alpha Demo
-Corvinex-
View Comments(0)

/

Add Comment




Android VE v0.8
Friday - February 19, 2010
So the latest update includes new High Scores system. Each episode now has a top ten, and after completing the episode your score will be submitted. We also updated the home base area, and now looks more like your personal land. More on that later. You can check out everyone's latest scores on the leaderboards. Here are the latest screen shots: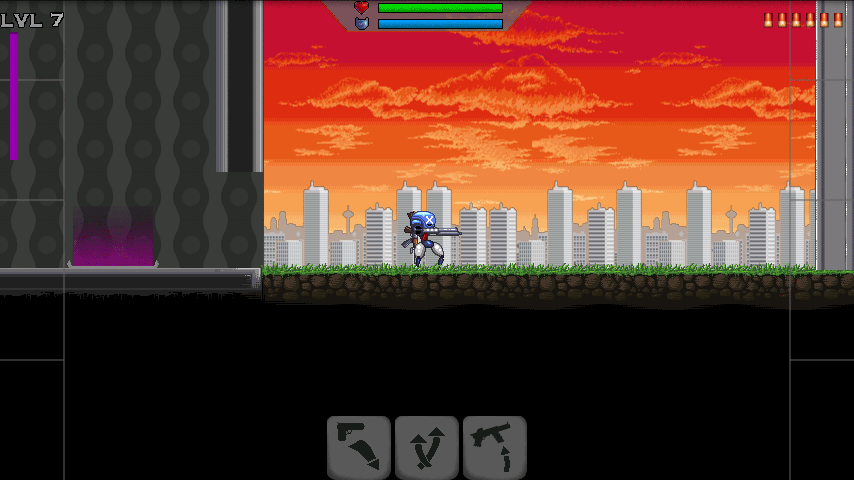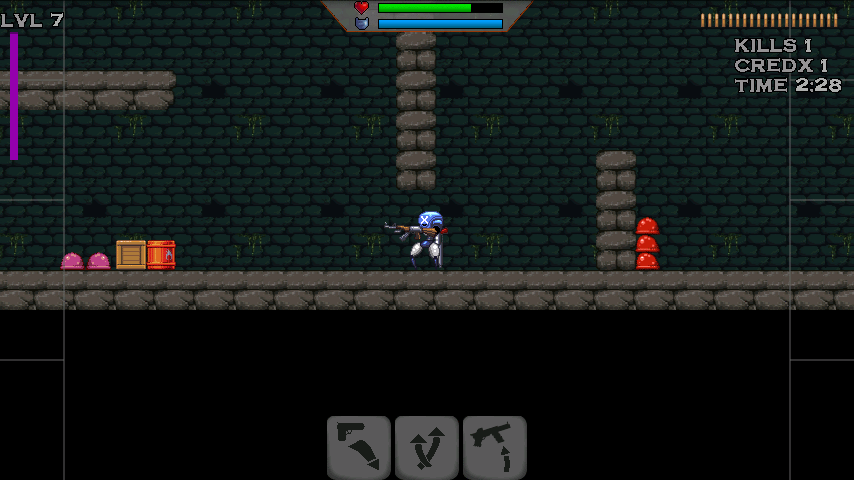 We have also updated the applet version to reflect the latest changes, so check it out. Alpha Demo
-Corvinex-
View Comments(5)

/

Add Comment




Android VE v0.6
Friday - January 29, 2010
The next update will include backgrounds finally, a new interface, and a new controls scheme. I have been reading the comments, and everyone has been asking for new controls. So we added a new edge of screen moving system. Hopefully everyone will like it. Here are some screen shots: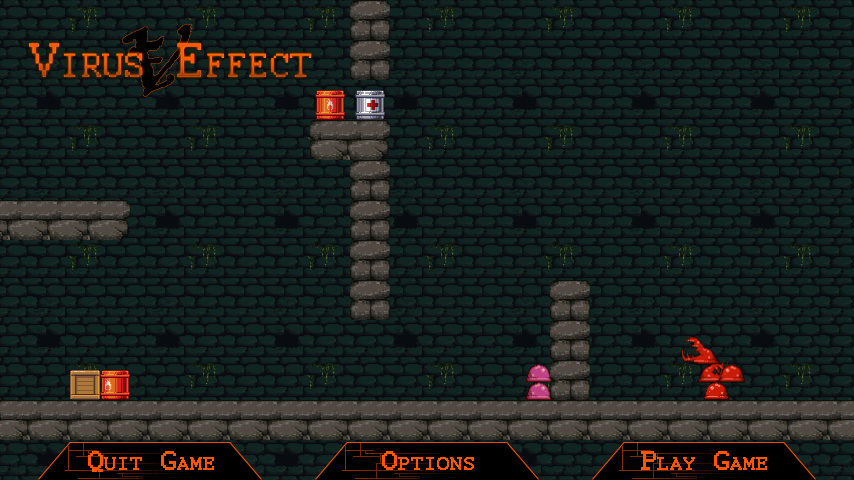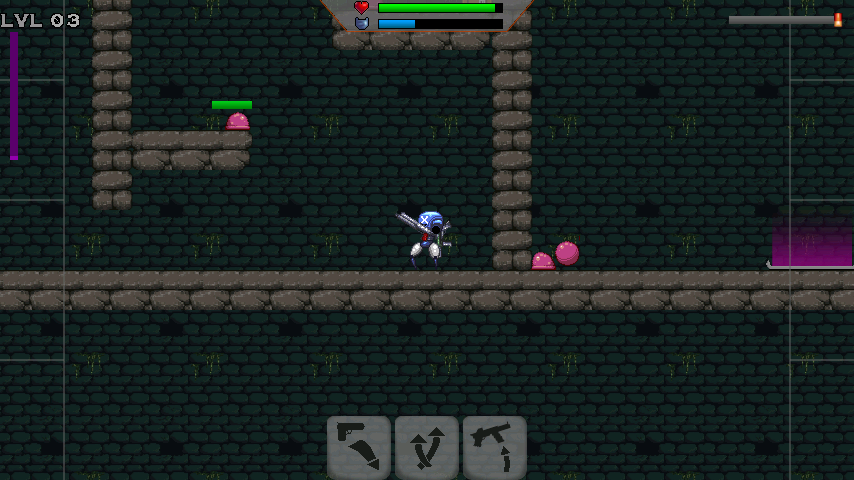 -Corvinex-
View Comments(1)

/

Add Comment




Android Version in the Browser
Monday - January 18, 2010
Hey guys, since the last Android version update I have been working on getting it playable in the browser. This capability will allow players, when fully complete, to take their experience of VE on the go with them on their Android powered phones. Your stats will be seamlessly updated every time you log in from your Android powered device, letting you use all your weapons, armor, and items from Virus Effect.

Check out the Android Version of VE playable now in your browser!
-Corvinex-
View Comments(0)

/

Add Comment




Android VE Alpha Released!
Saturday - January 9, 2010
Finally the android version of VE is out. It is just one room today, but I will be updating pretty often until its complete. Then its on to the paid version.

If any of you have an Android Phone be sure to search for Virus Effect LITE on the Android Market!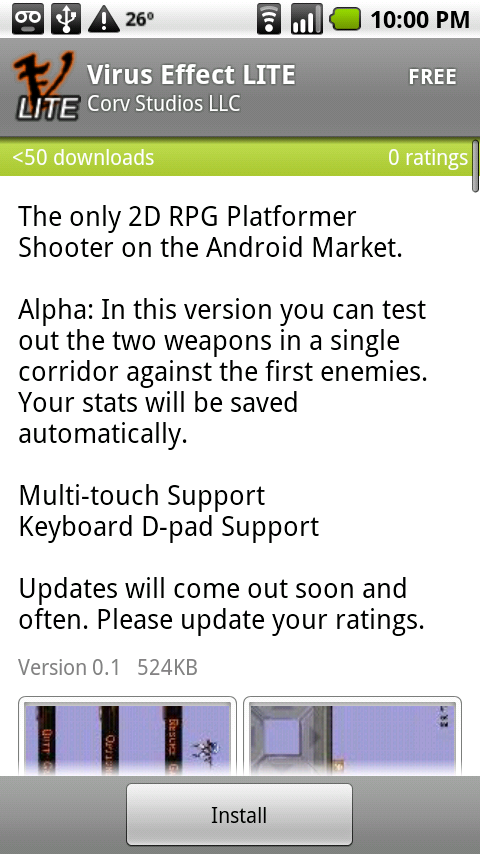 -Corvinex-
View Comments(2)

/

Add Comment




1
2
3
4
5
6
7
8
9
10
News Archive
Latest Blog Posts
IndieVElopment Pack
Jul. 8, 2010 8:37 pm
Android - Why Every Java Developer Should Be On The Bandwagon!
Mar. 4, 2010 3:14 pm
Android Version In The Works
Dec. 30, 2009 11:58 pm
November Update
Nov. 11, 2009 9:27 pm
New Physics Code, Finally
Jul. 2, 2009 7:47 am
Latest Forum Posts
їThis game already dead?
May. 27, 2017 8:43 pm
Try to win!
Nov. 25, 2016 6:24 am
Special Weapons After Donation
Apr. 24, 2013 10:27 pm
Do this, Corvinex!
Mar. 17, 2012 7:42 pm
Shark Things in Level Two
Mar. 17, 2012 7:39 pm